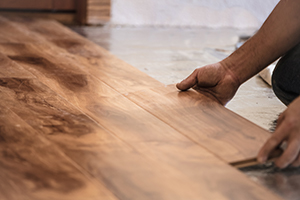 When choosing new flooring, you have a myriad of options, including hardwood, engineered hardwood, tile, carpet, laminate, and vinyl plank. It's important to keep several factors in mind when selecting the style and type of flooring for your home to ensure that it meets your needs, budget, and aesthetics.

Moisture level: Flooring for high-moisture areas of the house, like the kitchen and bathroom, should be waterproof when possible. Consider ceramic, concrete, or porcelain tile for these areas rather than hardwood or carpet.

Wear and tear: If you have pets or kids, opt for flooring with durability. Flooring like tile, laminate, carpet, or plank vinyl holds up well to scratches and spills.

Budget: Flooring costs can run the gamut from less than $2 a square foot to over $5 a square foot. Calculate how much square footage you need to cover and what your maximum budget is to determine what type of flooring you can afford.

Installation: Some types of flooring, like vinyl plank and laminate, are relatively simple to self-install, which can save on the total flooring cost substantially. Others, like carpet and hardwood, are best installed by professionals.

Maintenance: You can easily maintain some flooring, like vinyl plank, with any type of floor cleaning solution and little to no other upkeep. Other kinds of flooring, like hardwood, can warp with too much sunlight or exposure to water and may require occasional refinishing. Think about how much maintenance you want with your flooring before making a choice.

With these considerations in mind, you'll be able to select the perfect flooring for each room in your home.