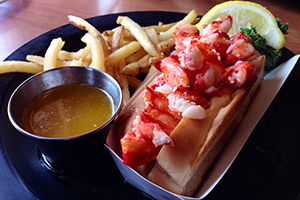 Is there anything better on a hot summer day than a fresh, buttery lobster roll? The answer is no. Give this delicious, Connecticut-style lobster roll recipe a try the next time you're craving some classic, East Coast cuisine.

Connecticut Lobster Roll Recipe

Makes: 4 servings

Prep Time: 15 minutes

Total Time: 30 minutes

Ingredients:
Three 12-ounce lobster tails, steamed with meat removed and chopped
1/4 cup of butter
Four split-top hot dog buns
2 tablespoons of freshly chopped chives
Salt
Freshly-ground black pepper
Lemon wedges
Instructions:
Melt 2 tablespoons of the butter and brush it on the inside of the hot dog buns. While applying the butter, heat a large skillet over medium heat. Once hot, add the buns, butter side down – do this in batches if needed. Toast the buns until golden brown, which should take 1 to 2 minutes.
Remove the toasted buns from the pan and add in the remaining butter. Bring the heat to low and let the butter melt. Once it's melted, add the lobster and cook it, stirring constantly, until the lobster is fully coated in butter. Take the lobster out of the pan once it's cooked through and totally coated in butter, which should take 3 to 4 minutes. Season the lobster filling with salt and pepper. Add the lobster to the toasted hot dog buns and top the rolls with the chopped chives. Serve the rolls immediately with the lemon wedges on the side.