Maple Balsamic Pork Tenderloin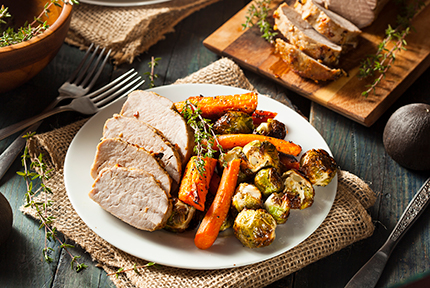 As the weather starts to cool down, many people enjoy preparing and eating warm, flavorful comfort food. Add this delicious pork tenderloin to your menu rotation — it's packed with flavor and features the moist, juicy consistency that people love about pork tenderloin.
Maple Balsamic Pork Tenderloin
Ingredients:
2 lb. pork tenderloin (cut into two roughly equal pieces)
2 tbsp. cooking oil of your choice
Marinade:
2 dry shallots, minced
2 garlic cloves, minced
1 tbsp. fresh thyme, finely chopped
½ cup pure maple syrup
¼ cup balsamic vinegar
3 tbsp. Dijon mustard
2 tbsp. extra-virgin olive oil
1 tsp. kosher or Himalayan salt
½ tsp. ground black pepper
¼ tsp. cayenne pepper
Instructions:
Mix marinade ingredients until combined. Place tenderloin pieces into a baking dish and pour marinade over them. Toss carefully until both pieces are coated, then cover the dish with plastic wrap or a lid and marinate in the refrigerator for at least six hours, preferably overnight.
Preheat oven to 375 degrees Fahrenheit. Heat 2 tbsp. of cooking oil in a large oven-safe skillet and sear each piece for several minutes per side until all sides are golden brown. Pour remaining marinade over the meat and simmer for about a minute. Cover the skillet with foil and place in the preheated oven for fifteen minutes.
Remove from the oven and spoon additional marinade over the meat. Cook uncovered for another five to ten minutes, or until the thickest part of the meat is at least 145 degrees Fahrenheit. Tent loosely with foil and allow to rest for three to five minutes. Slice into medallions and serve with the remaining maple balsamic sauce. Pairs well with fresh, grilled vegetables or roasted potatoes.
Sources: The Healthy Foodie