Jambalaya Pasta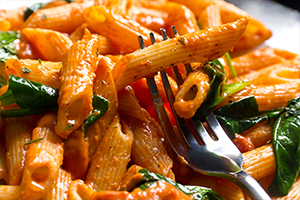 Looking for a quick and easy way to bring a little Louisiana flair to your dinner? Then check out this delicious recipe for Jambalaya pasta.

Ingredients:
1 tablespoon of extra-virgin olive oil
2 chopped bell peppers
1 chopped onion
2 minced cloves of garlic
2 links of andouille sausage, sliced
2 boneless skinless chicken breasts, chopped
ground black pepper
kosher salt
1 teaspoon Cajun seasoning
10 ounces of penne pasta
4 cups of chicken broth
1 15-ounce can of diced tomatoes
1 cup of shredded cheddar cheese
1/2-cup of heavy cream
chopped parsley, for serving
grated Parmesan cheese, for serving
Directions:
Heat olive oil in a large skillet over medium heat.
Add the peppers and onions and cook until softened.
Add the sausage and cook until browned.
Add the garlic and cook for one minute or until fragrant.
Add the chicken, ground pepper, kosher salt, and Cajun seasoning and cook until chicken is done.
Add the penne pasta, diced tomatoes, and chicken broth.
Let the ingredients simmer for about 20 minutes or until almost all the liquid is absorbed and the pasta is al dente.
Stir in the cheddar cheese and heavy cream until they're smooth.
Sprinkle the parsley and Parmesan cheese on top and serve.
Source: Delish